Area of Interest (AOI) CLIPPING MBTILES
Take a large area or regional or entire World or Country and CLIP to a small area you need offline.
Manual Method – include a map to define the AOI 
Automation/Jobs – bulk process several files
Tile Conversion
ESRI Tile Package TPKX/VTPK to GPKG/MBTILES
OSMDROID SQLite to MBTILES
Convert ESRI proprietary Tile Package formats TPKX -Raster Tile Package & VTPK -Vector Tile Package to GPKG/MBTILES for compatibility in other applications and tile server
OSMDROID Raster Map Tiles.SQLite (Created by MOBAC and ATAK/WINTAK and other applications) convert to MBTILES for compatibility with other applications and tile server.
Can do the individual conversion or batch conversion of an entire folder.
Create or Modify MBTILES
Merge multiple files
Delete zoom levels
Update Metadata
Build MBTILES from a folder of Tiles (PBF or PNG/JPG/WEBP or another format)
Extract to folder
Automation/Jobs
Automation/Jobs
Users can add a source's text files or source box files. this will display a Tabular list that enables users to create a queue of jobs and start clip jobs.
This will be a great capability for our solutions as we are planning to use similar logic and screen in offline maps data generator windows map download job.
Assembly GPKG – GeoPackage
Raster Tiles MBTILES
Vector Tiles MBTILES
Automation/Jobs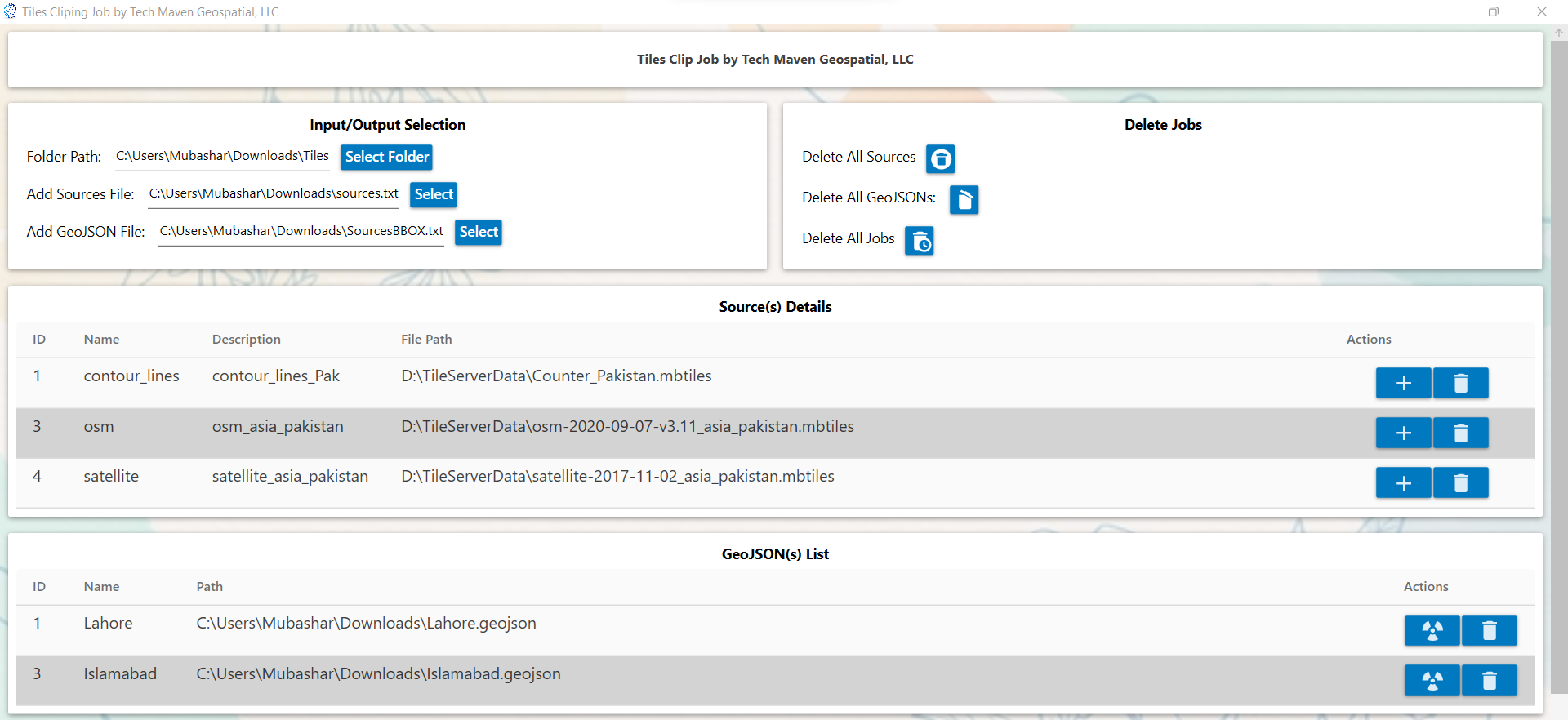 ✔ 

Views Raster Tiles (MBTILES and GPKG 3857 only)
✔ 

Views Folder of TMS/XYZ PNG/JPG Tiles (drag in windows explorer folder)
✔ 

View Local GeoJSON 
✔ 

Views Online XYZ/TMS Tile Server
✔ 

View Tile Numbers and Basemap
Extract GPKG and MBTILES to Folder of tiles

Flip Y-Row of Folder of Tiles (Convert TMS to XYZ or XYZ to TMS)
Assembly GPKG – GeoPackage
Raster Tiles MBTILES
Vector Tiles MBTILES
Note:
If you want GPKG vector features then create that first with QGIS Desktop or OGR2OGR or ArcGIS Pro or Global Mapper and then append to that GPKG database tiles.